After the in-person and physical activity restrictions and guidelines have been slightly relaxed, the Philippine College of Criminology (PCCR) kicked off its 68th Foundation Anniversary at the Justice Felix Angelo Bautista Multipurpose Hall of February 16 with the support of its notable alumni in law enforcement agencies as well as the local government officials of the City of Manila. Though limited to half the hall's capacity, the event set the tempo for the rest of the week's exciting celebration.
Representing the City of Manila together with fellow Councilor Pamela "Fa" Fugoso-Pascual, Manila 3rd District Councilor Timothy Oliver "Tol" Zarcal gave a congratulatory message to the institution for celebrating its 68th anniversary. Emphasizing on the essence of Leadership, Councilor Zarcal honored the future law enforcement agents as the country's next leaders.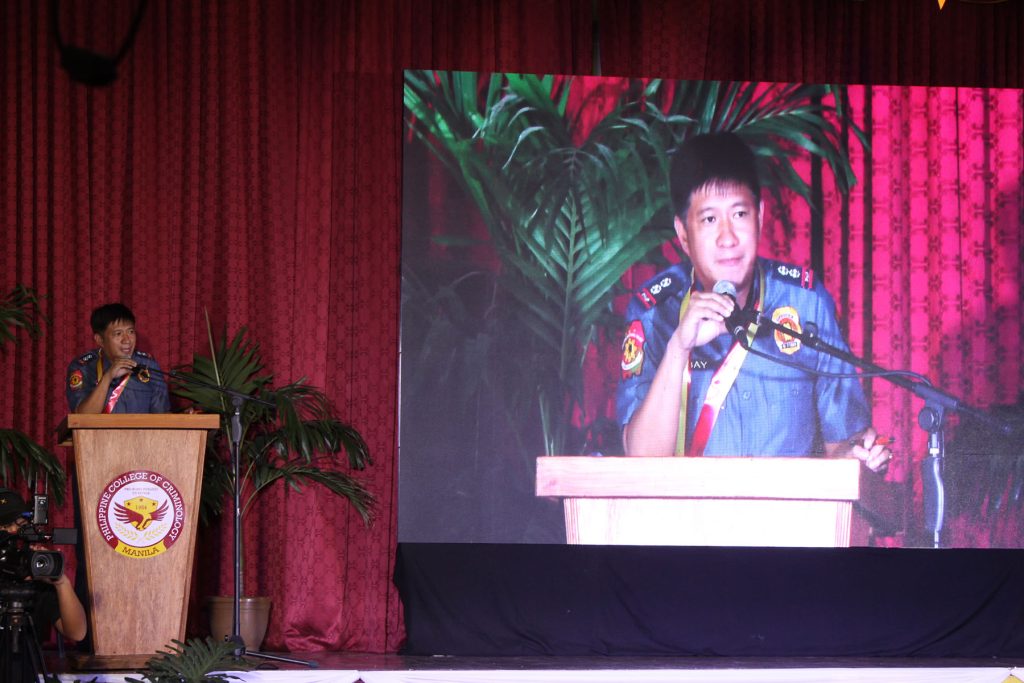 PCCR's very own distinguished alumnus Manila City Hall's Special Mayor's Reaction Team Chief Police Lt. Col. Rosalino P. Ibay, Jr. inspired the community with his speech. Col. Ibay reminisced about his days as a student of Criminology in PCCR especially after the lengthy introduction given by PCCR Executive Vice President Karim Bangcola featured his student number. Celebrating his 26th year of service in the Police Force, he detailed his journey from PCCR graduate to being recognized for his achievements for delivering professional and quality performance of duty. Ibay said in Filipino, "If you're given a certain task or position, that was meant for nobody else but you. Do it well".
The Keynote Address was delivered online by Department of Interior and Local Government Assistant Secretary for Peace and Order Manuel B. Felix, who also highlighted doing one's duty to the best of his or her ability. He touched on how learning the rigors of Criminology as a student will help hone the skills to be part of agencies such as the Philippine National Police, The Bureau of Fire Protection, The Bureau of Jail Management and Penology, and many other law enforcement and protection agencies. According to Asec. Felix, real life crime investigation is where PCCR's core values of Leadership, Excellence, Accountability, Discipline, Empathy, Respect, Service, Humility, Integrity, and Perseverance are most useful.
PCCR President Ma. Angelica Lei G. Bautista declared the 68th Foundation Activities open as she discussed exciting times ahead for the institution. Despite challenges from the pandemic and competition, President Lei declared that PCCR will be around for yet another 68 years and beyond with the help of the whole community: from students, faculty, employees, and even their families. She called on the PCCR Alumni to "come home and give back" to sustain the growth and direction of the institution. 
Though unable to physically attend the event, Manila 3rd District Representative and proud Batang 641 Hon. John Marvin "Yul Servo" Nieto patched in via video call on the campaign trail to greet the whole community and congratulate the institution for its 68th Foundation Anniversary. He credited his PCCR education for all his successes, from being a multi-awarded actor to his public service career as councilor and congressman. Nieto called on the Batang 641 to continue to dream big, but back those dreams with action, perseverance, and prayer. He also called on the PCCR faculty to keep on pushing and forming the students to become the country's next generation of excellent police officers and law enforcement agents.